*** Upon further review and discussion, since we are in a feeler stage.... There is two changes made to the shirt. Front upper has been change and the back wording as well. In keeping with the Logo at my blog I have kept the Text. Same color applies. That has not been change.
Now updated wording will be " M14/M1A, EBR " in color gold lettering.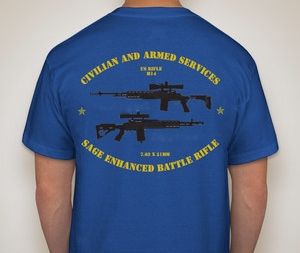 *New updated wording is the same as the the blog site as follows " Civilian and Armed Services " with 7.62 x 51mm and US Rifle M14 added as well.